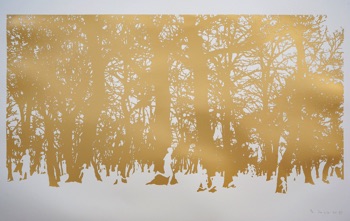 TREES OF LIFE
What can you see in the trees? There are people running, children playing, someone on a swing, a dog, a squirrel, birds flying, a deer, buddha and even an elephant - and without the trees,what would there be?
Metal leaf on Somerset Rag - 100% cotton paper
53 x 82 cm Edition of 90
Click on image to enlarge
Shipping within the UK and Europe costs 100 euros. For shipping elsewhere, please contact.